If you are having trouble connecting to the internet we ask you follow these simple instructions. If these steps do not solve your connectivity issue, please contact us.
PLEASE DO NOT PUSH THE RESET BUTTON, A TECH WILL NEED TO COME TO YOUR HOUSE IF YOU DO!
Cycle power on any wireless access point or router that you may have in your home. Many times, the software that is running on these wireless routers stops functioning, and a simple power cycle will solve many connectivity problems.
If cycling power on your wireless router is not successful in resolving your issue, please locate the POE power supply that provides power to the WiConnect Wireless equipment that we have on your home. This box is usually a small, black, rectangular box that is about 3 inches long, with a power plug in one end and two Ethernet ports with cables connected to each port.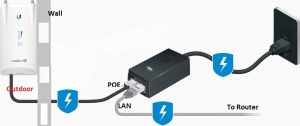 Please unplug this unit for about 5 seconds and then plug it back in. Also, PLEASE ENSURE THAT BOTH THE ETHERNET CABLES ARE COMPLETELY PLUGGED INTO THE POE DEVICE. This will restart the wireless antenna on your home.
4. Call us for assistance if you need help with these tasks. If this happens regularly, we would like you to let us know as there may be other problems with your equipment.