If you would like to set up automated reoccurring billing (a.k.a. ARB) on your account, please log into the secure payment portal at the following URL: http://secure.wicw.net
Once you are logged in, navigate to the payments page from the navigation menu at the top of the screen.  If you are on a smartphone, you may have to expand the menu by tapping the menu icon in the upper-right corner of the screen.
You will notice that there are three tabs that you can select on that screen.  The first two are for selecting a current invoice, and paying it.  The last one is for setting up reoccurring billing.  Click on that tab, fill in the amount you wish to pay every month, select the interval (monthly, every 6 months, or yearly), and finally, select whether you want it to be debited from your account on the 1st or the 15th of the month.  Below, you can see an example screenshot.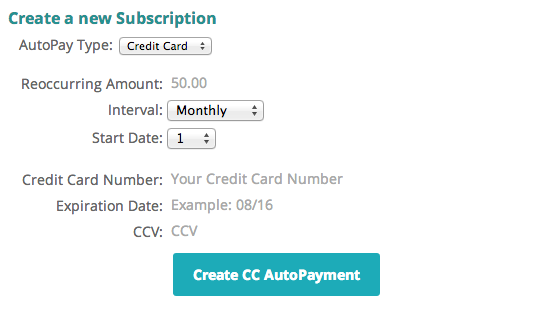 Once you finalize filling out your payment details, you can then click the green "Create AutoPayment" button, and you are all done.  If the transaction was successful, you should see your active ARB subscriptions in the table above the form.  You can cancel your subscription at any time by clicking the little x in the right side of the subscription.
Thank you for being a valued customer of WIConnect Wireless!